Monthly Archives:
July 2012
I need to share this with you, since it made me laugh so hard… and remember, I love Loki.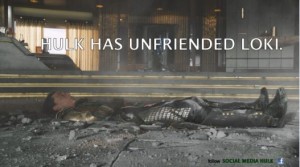 Source & full sized pic here
You know the drill… please don't change/edit, and please credit when you use them. Thanks 🙂
All icons/pics from the Deleted Scene "Thor and Loki before the coronation" you can find on the DVD and Bluray. Continue reading →
Watching THE AVENGERS for the first time was kind of like being thrown into cold water. I really had my problems understanding the whole thing. The only characters I knew were Tony Stark & Pepper Potts, Nick Fury & Phil Coulson, and Natascha Romanoff. The Hulk I knew from stories, but nothing more. Everything else was new to me.
So when you have a movie that starts with a strange experiment, with a guy being called Hawk(eye) and sitting under the ceiling, with a scientist who's obviously important and works on said experiments, and with another guy suddenly appearing after a bit of lightning, you of course get confused.
That was my first impression, of the beginning at least. My first general impression of the movie was: Can't say I get it all, but it was definitely a nice watch. And I would watch it again. Continue reading →
Before I start rambling here (and it will be rambling *lol*), I'd like to give an insight on how it came to the creation of this blog. The general story you can read in 'About' – but there is a more recent story that brought me here.
It all started with one movie I never wanted to watch. Continue reading →
So here we are. I've actually dared to take the step into the blogging world. And who inspired me to do this?
Tom Hiddleston.
No kidding.
This will be a blog of a fangirl. It will be about Tom, about Thor and The Avengers, about movies and TV shows I love, actors and actresses I adore. It will be about books I read, and everything that goes through my head whenever it comes to fandom(s).
I hope I'll find the time to write something here at least once a week – I'd prefer it to be more often. There are so many ideas in my head, because I think a lot about fandom. Why? Read the 'About' section 😉
That's it for my first entry… let's see where this goes!