Thor
After months and months of waiting, we finally got to watch THOR: THE DARK WORLD yesterday.
For those who haven't seen it yet – be aware that this is a full review, so it includes major spoilers. I give you a general impression: That's one hell of a movie. You will laugh. And you will cry. I won't say why, because there are many reasons to cry, whether it's because of laughter or sorrow. In any way, bring tissues.
Continue reading →
One thing you need to know about me: I hate crowds. I'm an extremely people-shy person, always stay away from bigger crowds and gatherings. I'm rather small (about as tall as Natalie) and slim and hate not being in control of what happens around me, which is impossible when you have people surrounding you.
Continue reading →
The trailer for THOR: THE DARK WORLD is finally out and I can't even begin to tell how excited I am.
Continue reading →
A little warning upfront: This is long. It has four pages in word.
As mentioned (several times *coughs*) before, Loki is the character I've taken most interest in when it comes to the Marvel movieverse. Even though the other characters are very interesting and come along with a lot potential, the adopted Odinson, especially since he is supposed to be the villain you shouldn't root for, has a presence one can't resist. Certainly I couldn't.
Even more so as he's not your typical villain, the one who's evil, period. Actually, one could claim him to be simply misled and looking for love… or a hug, as Tom Hiddleston says himself.
I'm usually rather straight when it comes to my likings – there really has to be a good reason for me to not root for the hero at the end of the day. I might like the bad guy somewhere along the way through a story, but in the end, I'll always wait and hope for the right one to win.
With AVENGERS, and then also THOR, it was different.
Continue reading →
After watching THE AVENGERS, I knew I couldn't just leave it at that. Such an awesome movie deserves research on my end – meaning, I wanted to know more about the background.
Buying THOR was never a question; not of 'if' anyways, and also not really of 'when'. Well. I think I did it, like, two days after I'd been to the cinema? 😀 Around the same time I bought a BD player… and thus also the THOR Bluray. Yep. Gooood decision.
Watching the movie with a friend, we both agreed that we definitely have to brush up on our knowledge about Norse mythology. I admit that I initially had my problems understanding the movie. So I unfortunately (I'm so not kidding. Coughs.) had to watch the movie again. And again. Aaaaaaaand… again. I even watched it with Audio Commentary by Kenneth Branagh. I just can't get enough of it. Damn it being so awesome. Continue reading →
I need to share this with you, since it made me laugh so hard… and remember, I love Loki.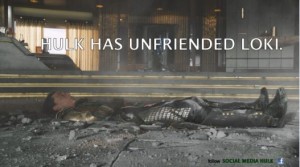 Source & full sized pic here